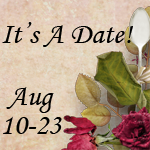 It's a Date!
On August 23rd Gluten Free for Jen is celebrating her 9 year wedding anniversary!
In honor of this wonderful moment, she has this wonderful gift package worth over $300! One lucky winner will receive everything you see below!
Perfect to have a perfect Date night with your one and only!!
1. Corset Chick- has your full line of corsets available no matter what your size is! They will be allowing the winner to select a corset up to $30 in value!
2.Lilla Rose - Gail Harris is a Lilla Rose rep. These are beautiful and easy to use. Winner will receive a clip of their choice up to $16
3. Park Lane- Since 1955 Park lane has been making exceptional and affordable jewelry. Alisa, a park lane rep, is giving away the gorgeous heart shape necklace rightfully called the Love Story Necklace valued at $63
4. The beautiful Music necklace is being donated by fellow blogger SuperMomSurveys. This necklace is valued at $54.
5. A Daily Resurfacing Serum from another wonderful blogger over at Semmes Savers.
6. Cloud 9 Rep Emilee is kicking off her business by offering up a wondering Sensational Sugar Scrub. This has a wonderful Pomegranite scent and is valued at $24.
7. Fellow blogger Jessica is a Mark Rep who sales make up and purses and more. Winner will receive a eye shadow set valued at $16.
8.Mia Mariu has a line of make up, facial items and more. Gluten Free for Jen will have a review coming up for her as well but for now, one winner will receive their

RestauraCel-C Thermal Microdermabrasion Set valued at $55!
9. Sharon over at A Little Bit of Everything truly does, a little bit of everything! Not only is she a blogger, but she is also an Avon rep who is sending to the winner a Perfume set complete with shower gel, lotion, perfume, and powder! This is a $32 value
10. Last but not least, Erin over at For Him and My Family is going to send the lucky winner a gorgeous purse from her Mark business! This purse is valued at $25!
A huge thank you to Isabella over at Just Another Static Heart as well. She created the beautiful event button above! She is your go to person for web design and other blog odds and ends so please be sure to check out her page as well!
So there you have it! A bunch of items to help you get ready for that perfect night out!
This giveaway will run from 8/10 until 11:59 pm EST 8/23! This is open for US residents only. Winners must be 18 or older to win. Enter by using the rafflecopter form below!
~Good Luck!~
a Rafflecopter giveaway
Mommyknowz is not responsible for prize shipment.