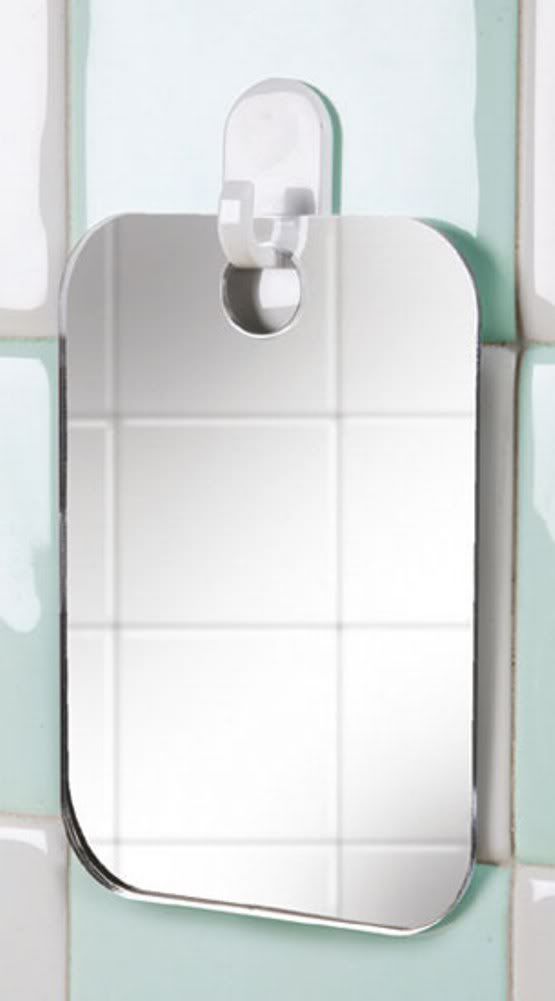 I received the Shavewell mirror for review and was excited to try it but a little surprised to find that it is fairly similar to the little mirror I had in my locker in High School. This mirror was really for my Husband as.... well I am a woman and don't need to see my face to get my shaving in the shower done lol. My Husband was very happy to have something for him arrive for once and actually is starting to like this whole blog review thing lol
He took it right to the bathroom as soon as he got home and installed the little hook that come with it and gave the Shavewell mirror a try. You have to turn on your shower to desired temperature and then run the mirror under the water for a few seconds to temper the mirror then hang it back up and shave away.
My Husbands comments were that if the water temperature changes during the shower you will have to give the shower another rinse...and you are shaving through water dips down the mirror but overall for the benefits of a clean shave while your already in the shower it is a great item and He loves it! And I have to say he must because he has been much more smooth lately!! which makes Mommy soooo very happy lol
I have seen other mirrors for use in the shower but this one was for sure the most practical and I love that it comes with its own hook. Many I have seen get stuck to the wall and then are very hard to temper and you end up trying to fling water across the shower. A hassle and a mess!
Check out shavewell mirrors on their
Website
,
Facebook
and
Twitter
or you can win one HERE.
~ All opinions expressed in this review are my own and not influenced in any way by the company.

Any product claim, statistic, quote or other representation about a product or service should be verified with the manufacturer or provider. Please refer to this site's Disclaimer for more information. I did not receive financial compensation for my post but did receive the product(s) mentioned above free of charge from the manufacturer or PR Agency and was under no obligation to write a positive review.

~