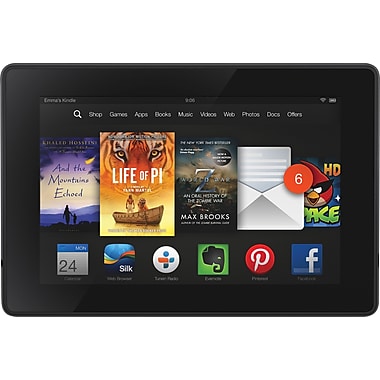 My oldest boy is starting grade one this year and with it comes a lot of firsts for our family. Not only will he be starting full days of school(man will we miss him!!) but he will be starting on his real learning journey and the starting point will be learning to read!
I am so excited for him as he has started to recognize and learn his letter sounds and has just started to try to put letter sounds together to form those simple beginning words. He is so eager to read especially to read his little brothers and now baby sister their bedtime stories and he gets so excited when he has memorized a book and thinks he is reading it to them. I just cant wait till he can really read and be excited to start his own journeys and adventures with the pages of a book..
Fire HD 7, 7" HD Display, Wi-Fi, 16 GB, Black
In today's digital age I was super excited when the kindle readers came out and wanted on so bad and now I am super excited to share the new Kindle HD with my son! Now he gets to have the excitement of using a reader/Mommy toy and learn to read at the same time. And with the Kindle he is even more inclined to try as it is something new and once forbidden lol. I also love that I can download books that are perfect for him to start reading with as well as use the Kindle's tablet capabilities to get some great learning games and apps so he will progress before he even knows it!! I love the surprise learning that I can sneak in :-)
the Kindle HD is available from Staples Canada and includes many great features including:
7" HD LCD touchscreen display (1280 x 800 resolution;
216 ppi)
1.5GHz Dual-Core CPU processor
It is lightweight and super easy to use and read from.
We have already used it a ton and I am so impressed by my son's improved reading ability's! this is a first that I am truly going to love.
~ All opinions expressed in this review are my own and not influenced in any way by the company. Any product claim, statistic, quote or other representation about a product or service should be verified with the manufacturer or provider. Please refer to this site's Disclaimer for more information. I may have received financial compensation or the product(s) mentioned above free of charge from the manufacturer or PR Agency and was under no obligation to write a positive review. ~